Mama Makeka Rebecca
Inspiration for MMH Hope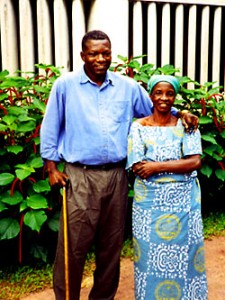 Mama Makeka Rebecca was born around 1920 in a village near Kajiji in Southern Bandundu, near the border with Angola in the Democratic Republic of Congo. Her schooling did not go beyond the third grade. After her mother died before she was twelve, she and her sisters were taken care of by a missionary woman working in Congo under Unevangelized Tribal Missions. She married Isaak Mutondo Tshimika in 1944 with whom she had nine children. Seven of her children and her husband had died before her own death in May 2002.
She was known to be a nurturing mother by hundreds of people from around the world who had deep and meaningful encounters with her, whose lives were impacted by hers, as well as countless Congolese men and women who saw her as a spiritual mother, grandmother, mentor, and role model. She was also an incarnation of hospitality, not just in what she did but in who she was. Mama Makeka never kept things for herself, always had space for others, and never turned anyone away – there was always room for one more. This was a gift from God.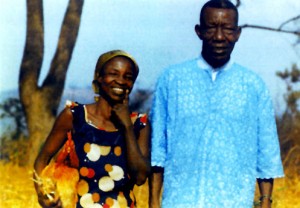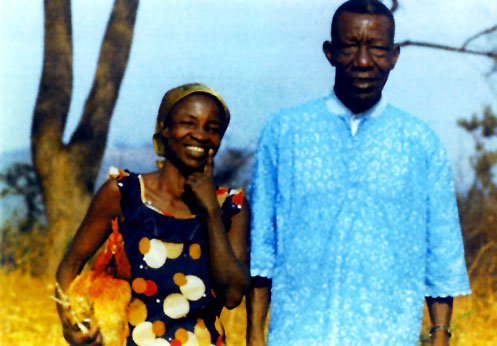 Mama Makeka was known to be a woman of prayer. She interceded before God for her family, missionaries, church workers, friends, neighbors, people she knew, people she would never met. A month before her husband's death in 1995, her son living in Europe had come to Congo for a visit. One night he was awakened in the middle of the night by his parents' voices coming from their bedroom. He got up to ask if there was something wrong. No, they said, they couldn't sleep so they decided to sit up and pray for everyone they knew.
She also knew how to bring God's glory into her daily life in spite of many adversities. She lost most of her children to death before her own passing, but recognized that she had many other children throughout the world, not through a blood relationship, but through the work of God in and through her. She challenged everyone to keep the faith because she knew that there was glory in heaven beyond the suffering she had experienced. She had already had a taste of that glory: about twenty-five years earlier, she was critically ill with meningitis and slipped into a coma. All the women from the church and the community were in her room and surrounding the house, weeping, knowing that the end was near. Later on she recounted that she saw a door open for her, full of glory: bright colors, a feeling of relief, overwhelmed by the joy that surrounded her, a sense of worship going on, a nd a sense of being welcomed. She saw two people standing by who told her that they were not going to escort her in now, she had to return. She said that no, she did not want to go back, she wanted to be in this place where she had felt so much joy. They said to her, no, look behind you. There are too many people crying for you. Your work is not finished, you have to go back. She then opened her eyes and saw that many women were crying in her room, saying that she had died.
Mama Makeka House of Hope envisions bringing the same sense of hospitality, nurturance, deep faith, empowerment, and hope to individuals suffering from HIV/AIDS and those without access to the most basic education and health services.
Pakisa Tshimika
Founder and Executive Director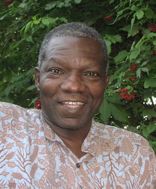 Just as for Mama Makeka, so with her son, there is always time for one more. For Pakisa Tshimika, founder and executive director of MMH Hope, people are not a distraction, but rather they are often the attraction.
Pakisa was born in Kajiji, Democratic Republic of Congo near the border of Angola. His father, a pastor, was Angolan by birth and his mother, Mama Makeka, was Angolan by descent. Pakisa attended primary school in Kajiji, a mission station, where he was taught by Mennonite Brethren missionaries who also ran the hospital, clinic, and church. He completed his secondary education in Kikwit where there was a Mennonite boarding school, and then, with the help of missionaries and others was able to study at Pacific College in Fresno, California in preparation for medical school.
In the summer of 1976 Pakisa and some friends were involved in a car crash on their way to Canada to attend a classmate's wedding. This event changed Pakisa's life. Rather than attending medical school in France that fall then returning to Congo to serve his countrymen as a surgeon, he spent months in the hospital recovering from a broken neck and relearning all those things many of us take for granted.
Since medical school was no longer an option, Pakisa chose another route: public health. In the mid- 1970's, he attended Loma Linda University where he received his Master's in Public Health then, in the late 1980's, he returned to earn his Doctorate in Public Health from the same institution. Since that time, he has worked with Mennonite Brethren Missions and Services, as consultant for Mennonite Central Committee, MEMISA, and Mennonite World Conference based both in Congo and in Fresno, California. Working within these organizations has given him the opportunity to travel around the world and meet people from all cultural backgrounds and walks of life. He has seen great joy and great grief. He has listened compassionately to other's stories and taken time to share his own. Since the accident, Pakisa no longer has the ability to run, like the record-making soccer player he once was, but walks slowly, first with a cane and now with a walker. Ironically, this slow walk creates in others the desire to walk slowly alongside him and, in this way, take time to share their stories.
Although leading a seemingly charmed public life, Pakisa's private life seems anything but charmed. He has lost seven of his nine siblings, both parents, and many of his friends and relatives, some to HIV/AIDS, some to violence, and some because basic health care was not available. As a result of the accident, his shoulder continues to give him great pain and his capacity to walk and stand is limited. His life and loyalties are often divided between two very different countries and cultures.
Mama Makeka House of Hope, founded in 2003 in honor of his mother, along with his wife, Linda, his three children, and friends and relatives around the world provide him with stability and vision, not only for a better Congo but for a compassionate and caring global community in which gifts of all kinds are shared, people of all cultures and beliefs join together in love, people become the attraction, not the distraction, and there is always time for one more.
Mama Makeka
House of Hope
"Where there's always room for one more…"